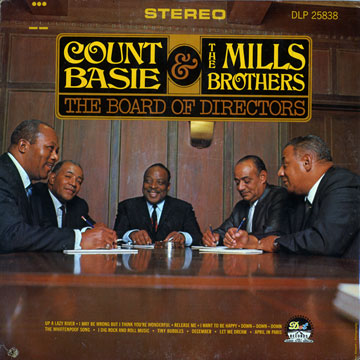 Count Basie (piano) & The Mills Brothers (vocals)
"The board of directors"
Dot 1967 (réf. DLP 25 838 )
Avec la participation de :
Count Basie (piano), The Mills Brothers (vocals), Eric Dixon (saxophone), Frank Foster (saxophone), Freddie Green (guitar), Dick Hyman (piano), Ernie Royal (trumpet), Marshal Royal (saxophone), Al Aarons (trumpet), Dick Boone, Norman Brown (guitar), Harlen Floyd, Charlie Fowlkes (saxophone), Gene Goe (trumpet), Sol Gubin (drums), Bill Hughes (trombon), Norman Keenan (bass), Grover Mitchell (trombon), Nat Pavone, Bobby Plater (saxophone)
33rpm, stereo, occasion, 34.00 €
[37.74 US$, 4,165.00 ¥]

Original US pressing
État du disque : VG+
État de la pochette : VG+ / a tiny hole on the bottom left corner
Recorded on the 20th and 21st of november, 1967.
Some very thumping noises may intervine sometimes.
1968 pressed Original Basie that swings...The Basie way!!
A rather funny front cover representing Basie as COB sitting on his chair, chatting with the Mills Bros. The photograph was taken by Charles Stewart.

Slight wear especially on corners.