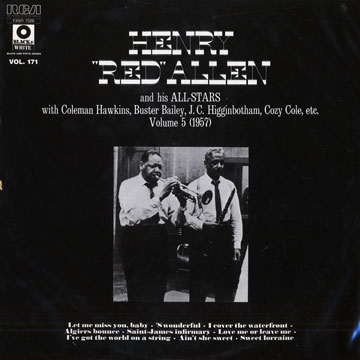 Henri Red Allen (trumpet)
"Henry Red Allen and his all-stars vol.5"
RCA 1957 (réf. FXM17326)
Avec la participation de :
Henri Red Allen (trumpet), Buster Bailey (clarinet), Cozy Cole (drums), Coleman Hawkins (saxophone), J.C. Higginbotham (trombon),
33rpm, stereo, occasion, 10.00 €
[11.60 US$, 1,229.00 ¥]

French pressing
État du disque : M
État de la pochette : VG+
Very slight wear on edges.
Slight beginning of ringwear.