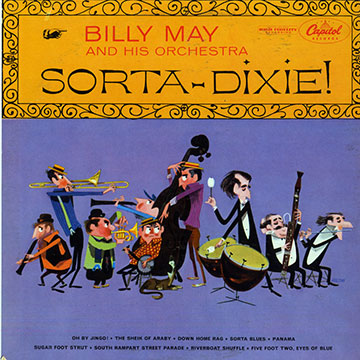 Billy May (trumpet)
"Sorta-Dixie"
Capitol 1955 (réf. T-677)
Avec la participation de :
Billy May (trumpet), Matty Matlock (clarinet), Eddie Miller (saxophone), Ted Nash (saxophone), Paul Smith (piano), John Best (trumpet), Dick Cathcart (trumpet), Vince De Rosa (trumpet), Chuck Gentry (saxophone), Conrad Gozzo (trumpet), Al Hendrickson (guitar), Skeets Herfurt (saxophone), Julie Jacob (flute), Clarence Karella (tuba), Manny Klein (trumpet), Ed Kusby (piano), Murray McEachern (trombon), Joe Mondragon (bass), Tommy Pederson (trombon), Uan Rasey (trumpet), Moe Schneider (trombon), Willie Schwartz (saxophone), Lou Singer (drums), Ann Stockton (harp), Alvin Stoller (drums), Si Zentner (trumpet)
33rpm, mono, occasion, 28.00 €
[32.48 US$, 3,441.20 ¥]

Original US pressing
État du disque : VG+
État de la pochette : VG
Slight cracklings.
The corners are slightly used.
Short opening on the bottom edge and in the middle of the bottom edge.
Tiny sticker trace on the back.