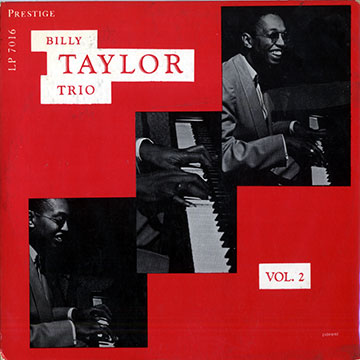 Billy Taylor (piano)
"Billy Taylor trio Volume 2"
Prestige 1953/1956 (réf. PRLP-7016 -)
Avec la participation de :
Billy Taylor (piano), Earl May (bass), Charlie Smith (drums),
33rpm, mono, occasion, 80.00 €
[88.00 US$, 9,672.00 ¥]

Second US pressing (yellow and black label, deep groove,N.Y.C)
État du disque : VG
État de la pochette : VG+
The Billy Taylor trio cooks!
On that album, Taylor tenderly and mischievousnessly confesses 'That's all', cuddling our ears.
Superb 'I've got the world on a string'.

Some little crackling.

The edges and the corners are slightly used.
The back is a little bit dirty with few writing.
The cover is in good condition.