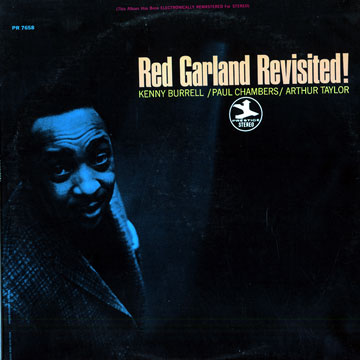 Red Garland (piano)
"Red Garland Revisited !"
Prestige 1957 (réf. PRST-7658)
Avec la participation de :
Red Garland (piano), Kenny Burrell (guitar), Paul Chambers (bass), Arthur Taylor (drums),
33rpm, stereo, occasion, 50.00 €
[57.50 US$, 6,205.00 ¥]

1969 US original pressing - dark blue label logo on the top
État du disque : VG+
État de la pochette : M
The tittle is a bit misleading. It is Red Garland Revisited in the sense that the session took place twelve years before its pressing.
Track listing : billy boy - everybody's somebody's fool - four - you keep coming back like a song - hey now - the masquerade is over - walkin' - it could happen to you.