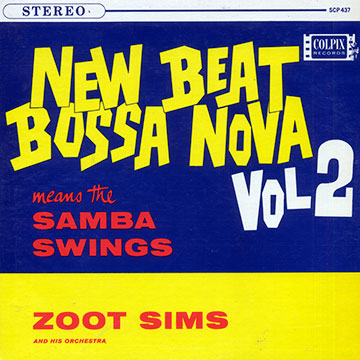 Zoot Sims (saxophone)
"New Beat Bossa Nova Volume 2"
COLPIX 1962 (réf. SCP-437)
Avec la participation de :
Zoot Sims (saxophone), Manny Albam (drums), Al Cohn (saxophone), Milt Hinton (bass), Phil Bodner (saxophone), Sol Gubin (drums), Tommy Jr. Lopez (percussions), Ron Odrich, Willie Rodriguez (percussions), Jerry Sanfino (flute), Spencer Sinatra (flute), Ted Sommer (drums)
33rpm, stereo, occasion, 60.00 €
[69.60 US$, 7,374.00 ¥]

Original US pressing - (gold label, glossy cover)
État du disque : VG+
État de la pochette : VG+
A great chapter in 60s bossa jazz...
Zoot Sims 'answer' to Stan Getz's bossa work on Verve, recorded in a similar jazz-meets-bossa style,still there's no question of endless repetition concering this album.With some great guitar work by Jim Hall!
Zoot's solos are a bit tighter and not as laidback as Stan's giving a more jazz-based sound to the work that makes for a nice change.
Most of the tunes feature larger backings from Manny Albam and Al Cohn, never too over-arranged, but with enough of a full swinging sound to set things right.
'Bernie's tune' and 'Nature boy' 's versions present exquite and rare constancy while they escape us at times...