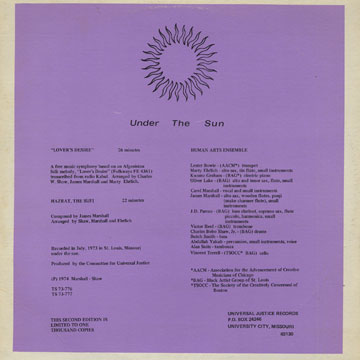 Human Arts Ensemble
"Under the Sun"
Universal justice records 1973 (réf. TS73-777)
Avec la participation de :
Human Arts Ensemble, Lester Bowie (trumpet), Marty Ehrlich (saxophone), Kwame Graham, Oliver Lake (saxophone), Charles Shaw, Carol Marshall, James Marshall, J.d. Parran (clarinet), Victor Reef, Butch Smith, Alan Suits, Vincent Terrell, Abdallah Yakub
33rpm, stereo, occasion, 80.00 €
[92.80 US$, 9,832.00 ¥]

US second pressing
État du disque : M
État de la pochette : M
> See pictures about : Lester Bowie
> See pictures about : Oliver Lake

As always, the excellent free funk blending by the masters of the style : the Human Arts Ensemble.
Second edition limited to thousand copies (the first was 500 only).
Includes a note on the Human Arts Association.
Track listing : lover's desire - hazrat, the sufi.