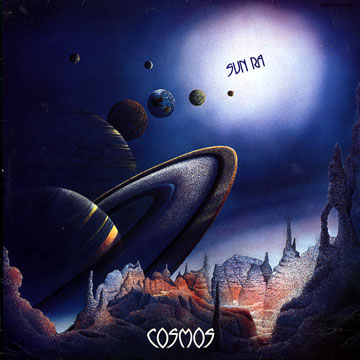 Sun Ra (piano)
"Cosmos"
Cobra 1976 (réf. COB 37001.)
Avec la participation de :
Sun Ra (piano), Marshall Allen (flute), John Gilmore (saxophone), Ahmed Abdullah (trumpet), Larry Bright (drums), Robert Antony Bunn (bass), Vincent Chancey (cor), Danny Davis (saxophone), Craig Harris (trombon), Jac Jackson, Elo Omoe (clarinet), Danny Thompson (saxophone)
33rpm, stereo, occasion, 45.00 €
[55.80 US$, 5,917.50 ¥]

French original pressing
État du disque : VG+
État de la pochette : VG+
> vendu
Recorded and published in france a few years before the mythical Lanquidity, this album features the fantastic vocal track 'Moonship Journey'.
Track listing: The mystery of two - Interstellar low ways - Neo project - Cosmos - Moonship Journey - Journey among the stars - Jazz from an unknown planet.