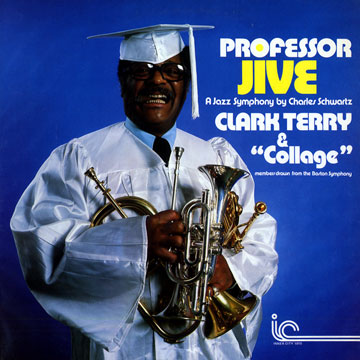 Clark Terry (trumpet)
"Professor Jive - Clark Terry and his 'Collage'"
Inner city 1976 (réf. IC 1015)
Avec la participation de :
Clark Terry (trumpet), Frank Epstein (percussions), Ronald Feldman, Paul Fried (flute), Ron Knudsed (violin), Cristopher Oldfather (piano), Felix Viscuglia (clarinet), Lawrence Wolfe (bass)
33rpm, stereo, occasion, 25.00 €
[28.75 US$, 3,102.50 ¥]

US pressing
État du disque : M
État de la pochette : M
Syncops and scats lessons under Mr. Clark Terry's heading and sparkling trumpet!

Funny cover photo showing Terry dressed in young formal graduate's wear.