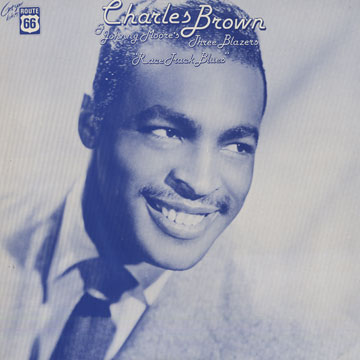 Charles Brown (vocals)
"Race track blues"
Route 66 1945/1956 (réf. KIX 17)
Featuring :
Charles Brown (vocals), Frank Fields (bass), Johnny Moore (guitar), Oscar Moore (guitar), Johnny Otis (drums), Eddie Williams (bass), Justin Adams (guitar), Lee Allen (saxophone), Ernest Mclean (guitar), Herman Mitchell (guitar), Chuck Norris (guitar), Wesley Prince (bass), Freddie Simon, Charles Williams (bass)
33rpm, mono, second hand, 16.00 €
[17.92 US$, 1,924.80 ¥]

1981 US pressing
Record's condition : M
Cover's condition : VG+
Charles Brown sure knows how to let out that Nat Cole's influenced heavy singing...
Better listen to 'Juke box lil'.

Near M!
Bare and unaudible dust traces on the first side.

'insert' featuring lyrics and personels is included.
Discreet sticker on rear cover's upper right corner.