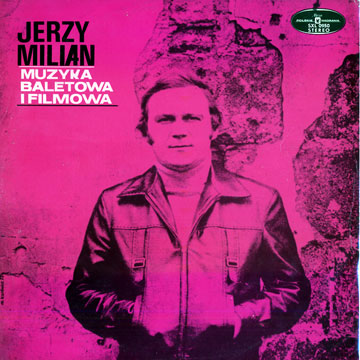 Jerzy Milian (vibes)
"Muzyka Filmowa I Baletowa"
Muza 1960's (réf. SXL 0950)
Featuring :
Jerzy Milian (vibes), Heinz Becker (trumpet), Milo Bures (trumpet), Götz Geithner (trombon), Gunter Gollasch, Joachim Graswurm, Fritz Heimbach (saxophone), Klaus Hille (guitar), Hubert Katzenbeier (trombon), Klaus Koch (bass), Fredy Lehmann (bass), Gerhard Miehatsch (bass), Siegfried Möhle (percussions), Gerhard Papst (trumpet), Horst Pawliczak (piano), Arnst Ludwig Petrovsky (saxophone), Horst Schmidt (trombon), Werner Schmidt, Wolfgang Winkler
33rpm, stereo, second hand, 45.00 €
[51.75 US$, 5,940.00 ¥]

Original polish pressing
Record's condition : VG
Cover's condition : VG+
Some light cracklings.

Ringwear, ink pad stamp and tiny note on rear cover. the edges are lightly used.