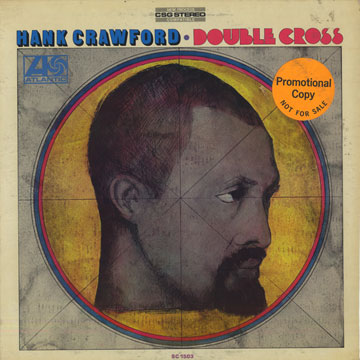 Hank Crawford (saxophone)
"Double Cross"
Atlantic 1968 (réf. SC 1503.)
Avec la participation de :
Hank Crawford (saxophone), Pepper Adams (saxophone), Jack Mc Duff (hammond organ), David Newman (saxophone), Joe Newman (trumpet), Bruno Carr (bass), Fielder Floyd (trumpet), Charles Green (bass), John Hunt (trumpet), Carl Lynch (guitar), Tony Studd (trombon), Jimmy Tyrell (bass)
33rpm, stereo, occasion, 34.00 €
[37.74 US$, 4,165.00 ¥]

US original pressing (white label promo copy)
État du disque : VG+
État de la pochette : VG+
The bottom of the cove's edge is slightly used.
The cover is a bit dirty.