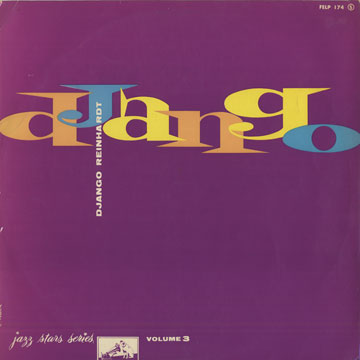 Django Reinhardt (guitar)
"Django Reinhardt volume 3"
La voix de son maitre 1937 (réf. FELP 174)
Avec la participation de :
Django Reinhardt (guitar), Marcel Bianchi (guitar), Stéphane Grappelli (violin), Pierre Baro Ferret (guitar), Wilson Myers (bass), Louis Vola (bass)
33rpm, mono, occasion, 10.00 €
[11.60 US$, 1,229.00 ¥]

French pressing
État du disque : VG-
État de la pochette : VG+
Cracklings especially on the side two.
The cover is VG+/VG-, little opening on the bottom edge.
The corners and the edges are slightly used.
Slight ringwear.