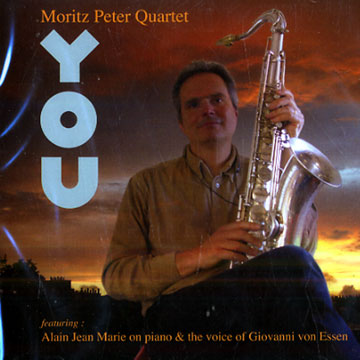 Peter Moritz (saxophone)
"You"
TCB 2010 (réf. TCB 29602.)
Avec la participation de :
Peter Moritz (saxophone), Alain Jean Marie (piano), Mourad Benhammou (drums), Emmanuel Chabbey (bass), William Chabbey (guitar), Giovanni Von Essen (vocals)
CD, stereo, occasion, 10.00 €
[11.20 US$, 1,203.00 ¥]

État du disque : S
État de la pochette : S
This CD is my third and my first for TCB The Montreux Jazz Label. I always wanted to do a recording with a singer and a pianist. But I do not want to abandon my many years of collaboration with guitarist William and his brother, bassist Emmanuel Chabbey. So I decided to get everyone together. In a Parisian club I heard Giovanni Von Essen, New York singer and now living in Paris. I asked him to participate in any follow my registration. Alain Jean Marie I found the ideal pianist. His personality and his musical taste can bring out the best of a musician. This is also true for the drummer Mourad Benhamou who has a special sense of rhythm. Being able to collect all these great musicians in a recording studio to play my music is a true moment of happiness.