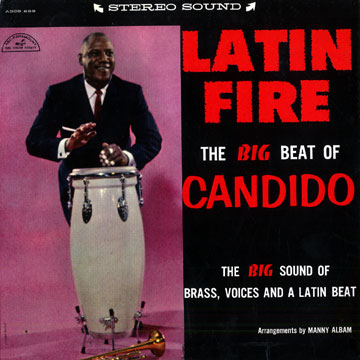 Candido (percussions)
"Latin Fire"
ABC - Paramount 1959 (réf. ABCS 286.)
Featuring :
Candido (percussions), Manny Albam (drums), Machito (percussions), Phil Woods (saxophone), Al DeRisi (trumpet), George Duvivier (bass), Bernie Glow (trumpet), Markie Markowitz (trumpet), Charlie Persip (drums), Ernie Royal (trumpet), Charlie Shavers (trumpet), Nick Travis (trumpet)
33rpm, stereo, second hand, 40.00 €
[47.20 US$, 5,188.00 ¥]

US original pressing
Record's condition : VG+
Cover's condition : VG+ / very small cut
Without cut the Cover would be M.
Some slight cracklings.