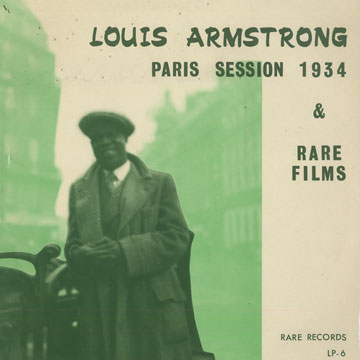 Louis Armstrong (trompette)
"Paris session 1934 and Rare Films"
Rare records 1934/1944/1948/1951/1952 (réf. LP 6 33 TM)
Avec la participation de :
Louis Armstrong (trompette), Barney Bigard (clarinette), Cozy Cole (batterie), Tommy Dorsey (trombone), Benny Goodman (clarinette), Dexter Gordon (saxophone), Lionel Hampton (vibraphone), Arvell Shaw (basse), Jack Teagarden (trombone), Larry Anderson (trombone), German Arago (basse), Harry Babasin (basse), Taswell Baird (trombone), Charlie Barnet (saxophone), Jesse Brown (trompette), John Brown (basse), Willard Brown (saxophone), Herman Chittinson (piano), Lester Currant (trompette), Peter Ducongé (clarinette), Andrew Ford (trompette), Thomas Grider (trompette), Lionel Guimaraes (trombone), Jack Hamilton (trompette), Joe Harris (batterie), Al Hendrickson (guitare), Maceo Jefferson (guitare), Adam Martin, Ted Mcrae (saxophone), Alfred Moore (basse), Mel Powell (piano), Alfred Pratt (saxophone), Ermet Slay (guitare), Edwin Swanston (orgue hammond), Ernest Thompson (saxophone), Leslie Thompson (trompette), Oliver Times (batterie), Henry Tyree (saxophone)
33t, mono, occasion, 20.00 €
[23.20 US$, 2,458.00 ¥]

Pressage US
État du disque : VG+
État de la pochette : VG+
> Voir les photos de : Louis Armstrong
> Voir les photos de : Benny Goodman
> Voir les photos de : Dexter Gordon
> Voir les photos de : Lionel Hampton

La qualité d'enregistrement est celle des années 30; quelques grésillements étouffés ambiants.
Le track-listing est le suivant;
En Octobre 1934 à Paris: 'St Louis Blues' deux prises, 'Super tiger rag', 'Will you won't you be ma baby', 'On the sunny side of the street' en deux parties, ''Song of the vipers'.

A Los Angeles en Août 1944: 'Baby don't you cry'.

Sont également inclus les bandes originales et extraits des films suivants; 'The strip', 'Glory alley', 'A song is born'.

On remarquera un 'Basin Street Blues' chanté par Armstrong et Teagarden.