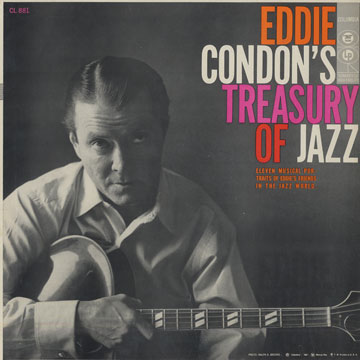 Eddie Condon (guitar)
"Eddie Condon's treasury of jazz"
Columbia 1956 (réf. CL 881)
Avec la participation de :
Eddie Condon (guitar), Cutty Cutshall (trombon), Wild Bill Davidson (trumpet), Walter Page (bass), Pee Wee Russell (clarinet), Ralph Sutton (piano), George Wettling (drums)
33rpm, mono, occasion, 30.00 €
[34.80 US$, 3,687.00 ¥]

US original pressing, deep groove, red and black label, 6 eyes.
État du disque : VG
État de la pochette : VG+
Some tiny cracklings.
Tiny opening in the middle of main edge.The cover is in very good condition.