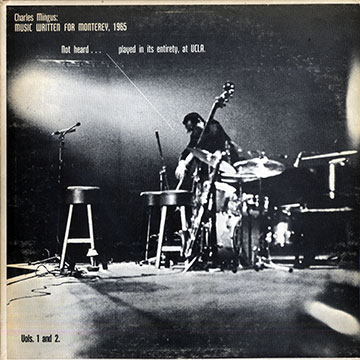 Charles Mingus (bass)
"Music written for Monterey, 1965 Not heard... played in its entirety, at UCLA vol1 and 2"
Charles Mingus 1965 (réf. JWS -013/14)
Avec la participation de :
Charles Mingus (bass), Charles McPherson (saxophone), Jimmy Owens (trumpet), Dannie Richmond (drums), Julius Watkins (cor), Hobart Dotson (trumpet), Lonnie Hillyer (trumpet), Howard Johnson (tuba)
double 33rpm, mono, occasion, 500.00 €
[540.00 US$, 57,750.00 ¥]

US original pressing - Very very rare, produced by Mingus on his own label! - Single-pocket jacket 'this album can be purchased only by mail
État du disque : VG+
État de la pochette : VG
Rare crackling.

The edges and the corners are used.
The top edge is opened.