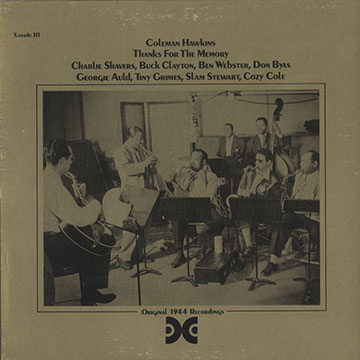 Coleman Hawkins (saxophone)
"Thanks for the memory"
Xanadu 1944 (réf. X-111)
Avec la participation de :
Coleman Hawkins (saxophone), Don Byas (saxophone), Cozy Cole (drums), Tiny Grimes (guitar), Ben Webster (saxophone), George Auld (saxophone), Buck Clayton (trumpet), Leonard Feather (piano), Remo Palmieri (guitar), Charlie Shavers (trumpet), Slam Stewart (bass)
33rpm, mono, occasion, 10.00 €
[11.60 US$, 1,229.00 ¥]

US pressing (1983)
État du disque : VG
État de la pochette : VG+
Some little crackling.

Little wear trace on the front cover.