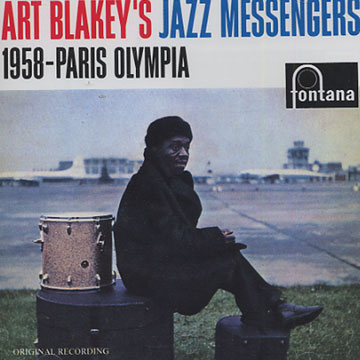 Art Blakey (drums)
"1958-Paris olympia"
Reissue of the Fontana LP 680 202 and EP 460 642
'I've never plyed for such an audience', declared Art Blakey in tears. It was November 22nd, 1958, and he'd just come offstage after on of the 'Jazz Wednesday's' concerts at the Paris Olypia. For a first appearance as the 'Jazz Messengers', they made quite an impression. Not content with pulling a huge crowd, they'd converted everybody to the 'Hard Bop' religion in two sets where, united in a kind of exultant communion, jazzmen, jazzophiles and curious bystanders alike had been crushed together in high spirits, paying no attention to the presence of Brigitte Barbot, escorted by Sacha Distel.