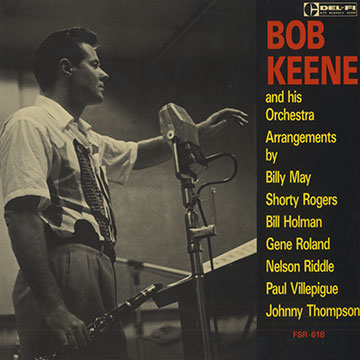 Bob Keene (clarinet)
"Bob Keene and His Orchestra"
Fresh Sound Records 1951-52 (réf. FSR -618)
Avec la participation de :
Bob Keene (clarinet), Milt Bernhart (trombon), Maynard Ferguson (trumpet), Bill Holman (saxophone), Franck Beach (trumpet), Conrad Gozzo (trumpet), Bob Harrington (piano), Joe Mondragon (bass), Dave Robbins (drums), Arnold Ross (piano), Paul Smith (piano), Alvin Stoller (drums)
33rpm, stereo, occasion, 17.00 €
[18.87 US$, 2,082.50 ¥]

1988 Fresh Sound Spanish pressing
État du disque : VG+
État de la pochette : VG+
Slight crackling.

Few little writing on the back cover.