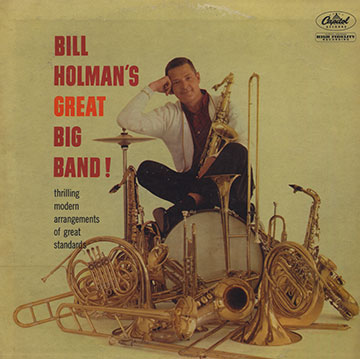 Bill Holman (saxophone)
"Bill Holman's great big band"
Capitol 1960 (réf. T-1464)
Avec la participation de :
Bill Holman (saxophone), Conte Candoli (trumpet), Richie Kamuca (saxophone), Mel Lewis (drums), Joe Maini (saxophone), Bill Perkins (saxophone), Frank Rosolino (trombon), Jimmy Rowles (piano), Charlie Kennedy (saxophone), Joe Mondragon (bass), Jack Nimitz (saxophone), Ray Triscari (trumpet)
33rpm, mono, occasion, 25.00 €
[27.00 US$, 2,887.50 ¥]

1960's US pressing
État du disque : VG+
État de la pochette : VG
Lihg crackling.

Little wear on the edges and on the corners.
Opening on the top edge.