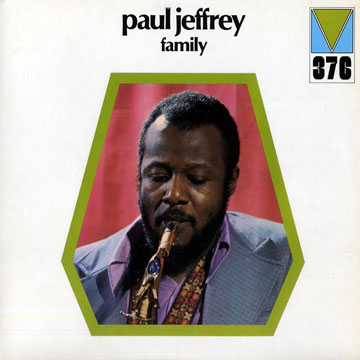 Paul Jeffrey (saxophone)
"Family"
Mainstream records 1972 (réf. mrl-376.)
Avec la participation de :
Paul Jeffrey (saxophone), Hamiet Bluiett (saxophone), George Cables (piano), Stan Clarke, Thelonious, Jr. Monk (drums), Wilbur Ware (bass), Stuart Butterfield (trumpet), Joseph Gardner, Bob Stewart (tuba), J.c. Williams (clarinet)
33rpm, stereo, occasion, 25.00 €
[28.25 US$, 3,220.00 ¥]

Original US pressing (gatefold cover)
État du disque : VG+
État de la pochette : VG-
Ringwear on the rear cover.

P. Jeffrey, saxophonist and composer, is currently the Director of Jazz Studies and a professor of music at New York's Duke University.