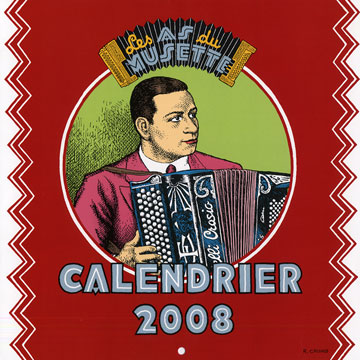 Dominique Cravic (guitar) & Robert Crumb (mandolin)
"Les as du musette calendrier 2008"
For all those of you who can't stand Accordion...

A calendar illustrated by Robert Crumb on cover and back.

A pictures for each month of Bert Keloos, Simone Butliauw, Louis Peguri & Dédé l'américain, Henri Crolla, les frères Colombo, Adolphe Deprince, l'orchestre Gandolfo, les Soeur Sabatier, Gigetto Costoncelli, V. Mareau... Coming from personnal collections.
Limited edition:500 copies.
And also an unseen illustration of Robert Crumb !