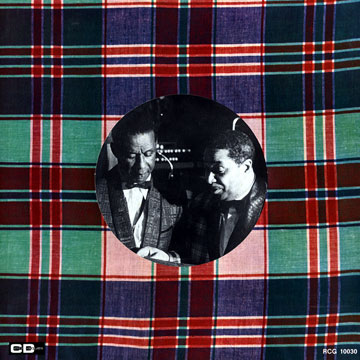 Al Lirvat (trombon) & Robert Mavounzy (saxophone)
"Musique folklorique"
Aux Ondes 1970 (réf. RCG-10030)
Avec la participation de :
Al Lirvat (trombon), Robert Mavounzy (saxophone), Alain Jean Marie (piano),
33rpm, stereo, occasion, 45.00 €
[50.40 US$, 5,413.50 ¥]

French original pressing -The cover is gatefold.
État du disque : VG+
État de la pochette : VG+
This exceptional and extremely rare record gathers three of the biggest French West-Indians musicians, defenders of the 'good Creole music' but also very influenced by the Jazz. This records marks a major stage in the route which led Alain Jean-Marie to realize his famous 'piano biguine' published later. The set of this great pianist is highlighted, he takes chorus on almost all tracks.
But on this record there is also the presence of two very big musicians who marked their culture and their time, princes of the Creole jazz, who defended and claimed their culture in France.