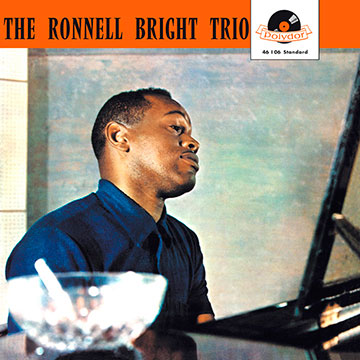 Ronnell Bright (piano)
"The Ronnell Bright Trio"
Polydor 1958 (réf. 46 106)
Avec la participation de :
Ronnell Bright (piano), Richard Davis (bass), Art Morgan (drums),
33rpm, mono, neuf, 30.00 €
[35.40 US$, 3,891.00 ¥]

2012 French pressing
État du disque : S
État de la pochette : S
Ronnell Bright was in Paris for just a simple stopover during the European tour that Sarah Vaughan was doing to represent the United States at the Universal Exhibition in Brussels.
This rare date was cut at Studio des Dames in Paris on June 5, 1958 for french Polydor label and it's a stripped-down trio date with a nicely relaxed feel – one that has Ronnell Bright really opening up on the keys, in ways you don't always hear on his material with singers. This session took place in a certain euphoria on Thursday of Corpus Christi, and you can feel the joy and dynamics in music.
The other players in the trio are Richard Davis on bass and the English drummer Art Morgan.

* Re-mastered from the original master tapes.
* Limited édition 180 gr vinyl pressed by Pallas in Germany.
* Facsimile reissue using the original photo from Jean-Pierre Leloir for the back cover (front photo is lost).
* Double insert using an original photo by JP Leloir from the session.
* Each record has been visually checked to prevent defects.