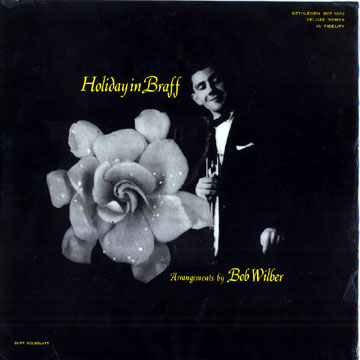 Ruby Braff (trumpet)
"Holiday in Braff"
Bethlehem records 1955 (réf. BCP-1032)
Featuring :
Ruby Braff (trumpet), Al Klink (saxophone), Mundell Lowe (guitar), Sol Schlinger (saxophone), Bob Wilber (saxophone), Bobby Donaldson (drums), Ellis Larkins (piano), Walter Page (bass), Boomie Richman (saxophone), Arthur Ryerson (guitar), Hymie Schertzer (saxophone)
33rpm, mono, second hand, 35.00 €
[40.60 US$, 4,301.50 ¥]

Original US pressing - Cover by Burt Goldblatt
Record's condition : VG+
Cover's condition : VG+
The cover is VG+/VG- due to a torn edge end at the back and slightly worn corners.
Tiny cracklings at a few times on the record.