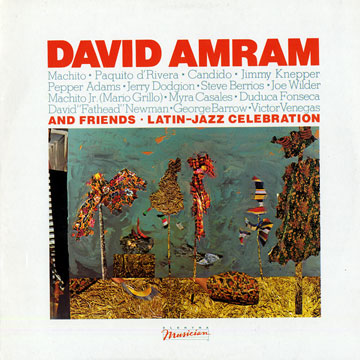 David Amram (cor)
"Latin-Jazz Celebration - David Amram and Friends"
Elektra musician 1982 (réf. 96-0195-1)
Featuring :
David Amram (cor), Pepper Adams (saxophone), Candido (percussions), Paquito D'riviera (saxophone), Jimmy Knepper (trombon), Machito (percussions), David Newman (saxophone), Joe Wilder (trumpet), George Barrow (saxophone), Steve Berrios (drums), Jerry Dodgion (flute), Duduca Fonseca, Mario Grillo, Victor Venegas (bass)
33rpm, stereo, second hand, 10.00 €
[11.50 US$, 1,241.00 ¥]

1983 German pressing
Record's condition : M
Cover's condition : VG+
Near mint cover.
Track listing : en memoria de chano pozo - new york charanga - andes breeze - take the a train - blue bomba - brazilian memories - celebration - song of the rain forest.