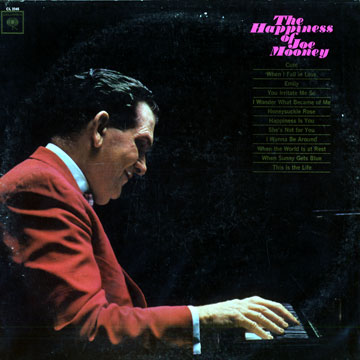 Joe Mooney (vocals)
"The happiness of Joe Mooney"
Columbia 1965 (réf. CL 2345)
Featuring :
Joe Mooney (vocals), Kenny Burrell (guitar), Mundell Lowe (guitar), Mousey Alexander (drums), Jerry Dodgion (flute), George Duvivier (bass), Milt Hinton (bass), Ed Shaughnessy (drums), Joe Venuto (vibes)
33rpm, mono, second hand, 28.00 €
[32.48 US$, 3,441.20 ¥]

Original American Pressing Radio Promo White Label
Record's condition : VG+
Cover's condition : VG
Small scratches on the beginning of the sides. Bottom edge a bit torn. Ringtones on the front. Small writings on the back.
Joe Mooney who claims to be more known but a nice line up. Nice voice.