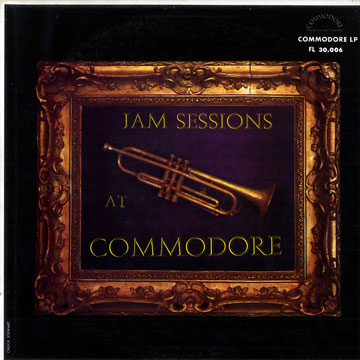 Eddie Condon (guitar)
"Jam sessions at Commodore"
Commodore 1938/1940/1943 (réf. FL 30006)
Avec la participation de :
Eddie Condon (guitar), Joe Marsala (clarinet), Pee Wee Russell (clarinet), George Brunis (trombon), Joe Bushkin (piano), Bud Freeman (saxophone), Bobby Hackett (trumpet), Art Shapiro (bass), Muggsy Spanier (trumpet), Jess Stacy (piano), George Wettling (drums)
33rpm, mono, occasion, 25.00 €
[29.00 US$, 3,072.50 ¥]

US pressing 1950's
État du disque : M
État de la pochette : VG+
Cover's rated as between VG+ and VG-.
The upper edge is opened, corners lightly used.
However, both front and rear covers are impeccable.