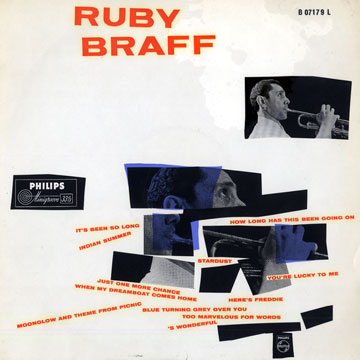 Ruby Braff (trumpet)
"Ruby Braff"
Philips 1956 (réf. 07179)
Avec la participation de :
Ruby Braff (trumpet), Freddie Green (guitar), Coleman Hawkins (saxophone), Lawrence Brown (trombon), Buzzy Drootin (drums), Don Elliott (vibes), Eddie Jones (bass), Steve Jordan (guitar), Dave Mckenna (piano), Nat Pierce (piano)
33rpm, stereo, occasion, 25.00 €
[28.00 US$, 3,007.50 ¥]

Dutch pressing
État du disque : VG+
État de la pochette : VG+
Unaudible and unharmful dust traces.

Yielding cover; ink pad stamp on the rear.
Discreet beginning of a ringwear on the front cover where are sticked couple of small price tags.