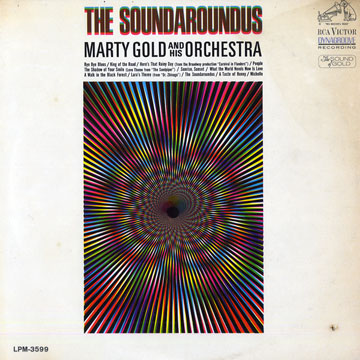 Marty Gold (percussions)
"The soundarondus"
RCA victor (réf. LPM 3599)
Avec la participation de :
Marty Gold (percussions),
33rpm, mono, occasion, 30.00 €
[33.60 US$, 3,609.00 ¥]

1966 US pressing (black label, EMI's puppy, deep groove)
État du disque : VG-
État de la pochette : VG+ / one cut down the front cover
A pretty melodic record that's rated between VG+ and VG-!
Some slight crackles on the record's very beginning and upon the 1st side's 3rd track; that is to say 'sunrise,sunset'.

Cover's in very good state.
The lower edge's upperside is very lightly used.