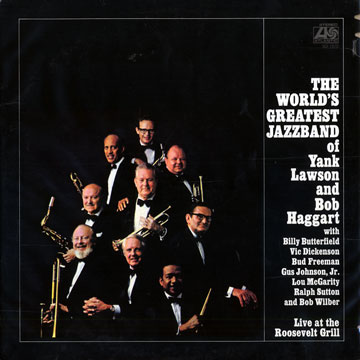 Bob Haggart (bass) & Yank Lawson (trumpet)
"The world's geatest jazzband of Yank Lawson and Bob Haggart"
Atlantic 1969 (réf. SD 1570)
Avec la participation de :
Bob Haggart (bass), Yank Lawson (trumpet), Billy Butterfield (trumpet), Vic Dickenson (trombon), Bud Freeman (saxophone), Gus Johnson (drums), Lou Mc Garity (trombon), Ralph Sutton (piano), Bob Wilber (saxophone),
33rpm, stereo, occasion, 25.00 €
[29.00 US$, 3,072.50 ¥]

Original US pressing (red and green label, '1841 Broadway, NY.')
État du disque : VG+
État de la pochette : VG+ / 3 cuts on the frront cover
Impeccable sound performance.
The consumate Old Team's blowing forces are gathered to give us a catchy and definetely dancing Live performance.
Very rare unaudible dust traces.

Near M cover!
A company's punch on the front cover's upper right corner.