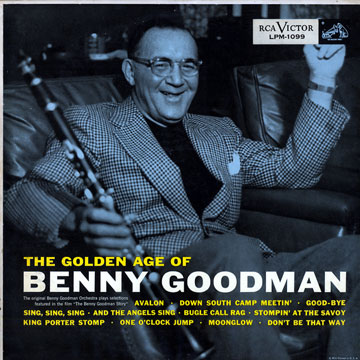 Benny Goodman (clarinet)
"The golden age of"
RCA victor 1935/1936/1937/1938/1939 (réf. LPM 1099)
Avec la participation de :
Benny Goodman (clarinet), Vernon Brown (trombon), Irving Goodman, Lionel Hampton (vibes), Joe Harris (drums), Ben Heller (guitar), Harry James (trumpet), George Koenig (saxophone), Buddy Schutz, Jess Stacy (piano), Bunny Berigan (trumpet), Dick Clark (saxophone), Frank Froeba (piano), Harry Goodman (bass), Gene Krupa (drums), Jack Lacey (trombon), Toots Mondello (saxophone), Ralph Muzillo (trumpet), Arthur Rollini (saxophone), Hymie Schertzer (saxophone), George Van Eps (guitar), Teddy Wilson (piano)
33rpm, mono, occasion, 28.00 €
[32.20 US$, 3,474.80 ¥]

Original US pressing (black label, EMI puppy, deep groove, rear cover bearing 'Gruve/Gard protection' mention)
État du disque : VG-
État de la pochette : VG+
> See pictures about : Benny Goodman
> See pictures about : Lionel Hampton
> See pictures about : Teddy Wilson

Swing at its very height...The Carnegie Hall's concert!

This re-issue goes back to 1956.

A VG+/VG- record.
Brief snappies only on the tracks' most 'silent' interludes.

Thin note on the rear cover's lower right corner.
A 'C' manufacturer's stamp on rear's upper right corner as vouch for authencity.