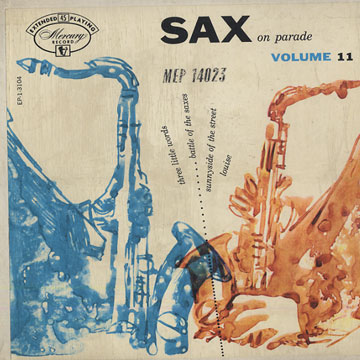 Various Artists
"Sax On Parade Vol. 11"
Mercury 1950's (réf. MEP 14023)
Avec la participation de :
Various Artists, Don Byas (saxophone), Johnny Guarnieri (piano), Coleman Hawkins (saxophone), Harry Carney (saxophone), Sidney Catlett (drums), Al Lucas (bass), Tab Smith (saxophone)
45rpm, mono, occasion, 9.00 €
[10.44 US$, 1,106.10 ¥]

French pressing
État du disque : VG+
État de la pochette : VG+
The cover is used.
The record is between VG+ and VG-.