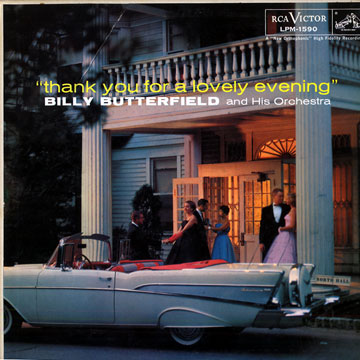 Billy Butterfield (trumpet)
"Thank you for a lovely evening"
RCA victor 1958 (réf. LPM 1590)
Avec la participation de :
Billy Butterfield (trumpet), Barry Galbraith (guitar), Urbie Green (trombon), Don Lamond (drums), Toots Mondello (saxophone), Dottie Smith (vocals), Bill Stegmeyer (clarinet), Micky Crane (piano), Cutty Cutshall (trombon), Hank D'amico (clarinet), Tony Faso (trumpet), Peanuts Hucko (saxophone), Deane Kincaide (saxophone), Cleef Leeman (drums), Jack Lesberg (bass), Hub Lytle (saxophone), Louis Mucci (trumpet), Doc Severinsen (trumpet)
33rpm, mono, occasion, 35.00 €
[40.60 US$, 4,301.50 ¥]

Original US pressing (black label, EMI puppy, deep groove)
État du disque : VG+
État de la pochette : VG+
> vendu
VG+/VG-.
One wear is audible only once on the record.

One thin folding on the front cover's upper left corner.
Ink pad stamp on the rear cover's upper right cover.
Short note on rear's tracklisting.