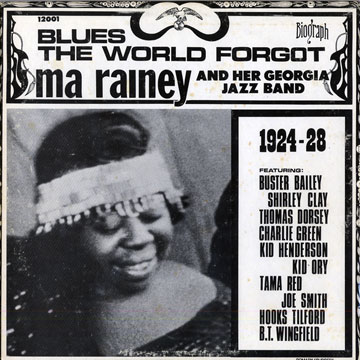 Ma Rainey (vocals)
"Blues the World forgot"
Biograph 1924/1928 (réf. BLP 12 001)
Avec la participation de :
Ma Rainey (vocals), Buster Bailey (clarinet), Coleman Hawkins (saxophone), Fletcher Henderson (piano), Kid Ory (trombon), Jimmy Blythe (piano), Happy Bolton (drums), Lucien Brown (clarinet), Elmer Chambers (clarinet), Shirley Clay (trumpet), Junie Cobb (clarinet), George Dorsey (saxophone), Charles Green (bass), Kid Henderson (clarinet), Lil Henderson (piano), HOP Hopkins (piano), Kaiser Marshall (drums), Tiny Parham (piano), Ike Rodgers (trombon), Howard Scott, Joe Smith (trumpet), Hooks Tilford (clarinet), George Williams (conductor), B.T. Wingfield (clarinet)
33rpm, mono, occasion, 16.00 €
[18.56 US$, 1,966.40 ¥]

US pressing
État du disque : VG+
État de la pochette : VG+
> vendu
Occuring sputterings are due to the recording techniques in use back in the 1920's.

Notes on the rear cover's tracklisting.