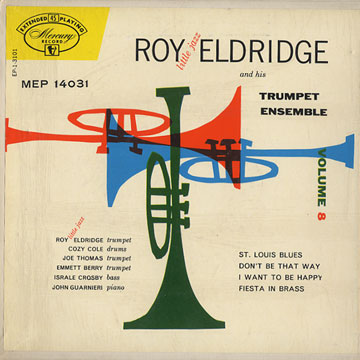 Roy Eldridge (trumpet)
"And his trumpet ensemble / Little Jazz volume 8"
Mercury 1944 (réf. MEP 14 031.)
Avec la participation de :
Roy Eldridge (trumpet), Cozy Cole (drums), Johnny Guarnieri (piano), Emmett Berry (trumpet), Israel Crosby (bass), Joe Thomas (clarinet)
45rpm, mono, occasion, 10.00 €
[11.50 US$, 1,241.00 ¥]

French pressing
État du disque : VG+
État de la pochette : VG+
> vendu
Unaudible dust traces.

Some lead pencil notes on the rear cover's upperside.
Some wears on the front cover's left edge.