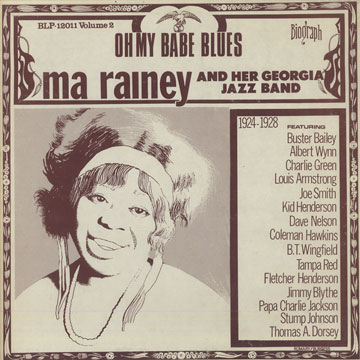 Ma Rainey (vocals)
"Oh My Babe Blues Volume 2 1924/1928"
Biograph 1924/1928 (réf. BLP 12011)
Avec la participation de :
Ma Rainey (vocals), Louis Armstrong (trumpet), Coleman Hawkins (saxophone), Fletcher Henderson (piano), Tampa Red (guitar), Buster Bailey (clarinet), Jimmy Blythe (piano), Thomas Dorsey (piano), Charles Green (bass), Kid Henderson (clarinet), Charlie 'papa' Jackson (guitar), Stump Johnson (saxophone), Dave Nelson (trumpet), Joe Smith (trumpet), B.T. Wingfield (clarinet), Albert Wynn (trombon)
33rpm, mono, occasion, 16.00 €
[18.56 US$, 1,966.40 ¥]

US pressing
État du disque : VG+
État de la pochette : VG+
VG+/VG- Record.
Sputterings are due to the 1920's recording techniques.

Notes on the rear cover's tracklisting.