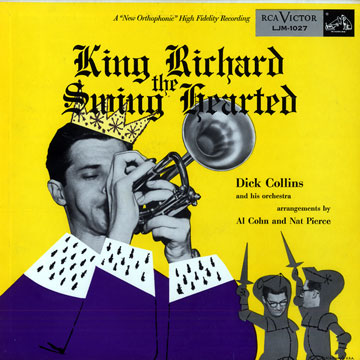 Dick Collins (trumpet)
"King Richard The Swing Hearted"
RCA 1954 (réf. LJM 1027)
Featuring :
Dick Collins (trumpet), Al Cohn (saxophone), Richie Kamuca (saxophone), Bill Perkins (saxophone), Nat Pierce (piano), Billy Byers (trombon), Chuck Flores (drums), Benny Harris (trumpet), John E. Howell, Red Kelly (bass), Dick Meldonian (saxophone), Jack Nimitz (saxophone), Al Porcino (trumpet), Sonny Russo (trombon), Charlie Walp (trumpet)
33rpm, mono, second hand, 50.00 €
[55.50 US$, 6,125.00 ¥]

Original US pressing (black label, EMI puppy, deep groove)
Record's condition : VG+
Cover's condition : VG+
Record's VG+/VG-.
Sputterings on some rare side's beginnings.

Cover's in very good condition.
Trace of sticker on the rear cover's upper left corner.

Swing hearted Richard.
Recorded on the 27th and 28th of Novembre.