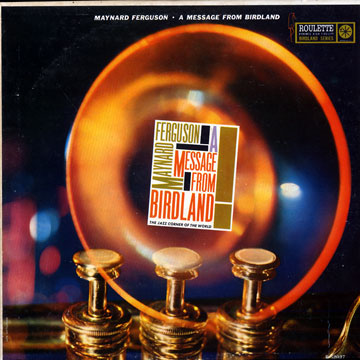 Maynard Ferguson (trumpet)
"A Message From Birdland"
Roulette 1965 (réf. R 52027)
Avec la participation de :
Maynard Ferguson (trumpet), Franck Dunlop (drums), Don Ellis (trumpet), Slide Hampton (trombon), Joe Zawinul (keybords), Bob Dogan (piano), Jimmy Ford (saxophone), John Lanni, Carmen Leggio (saxophone), Willie Maiden (saxophone), Clyde Reasinger (trumpet), Jimmy Rowser (bass), Don Sebesky (piano), Jerry Tyree (trumpet)
33rpm, mono, occasion, 36.00 €
[39.96 US$, 4,410.00 ¥]

Original US pressing (multicolor logo on white label)
État du disque : VG+
État de la pochette : VG+
> See pictures about : Don Ellis
> See pictures about : Slide Hampton

Couple of absolutely unaudible dust traces.
Class A sound engineering, implosive and sharp Bop tones!

Couple of very discreetly stuck tags on rear's upperside.
Front cover design was cleverly created by Len Gittleman.

Tracklisting is as follows; 'night life', Roaring rendition to 'stella by starlight', 'lonely time', 'back in the satellite again', 'oleo', 'starfire', 'the mark of jazz'.
As said on front cover, live performance was recorded at NYC's Birdland.