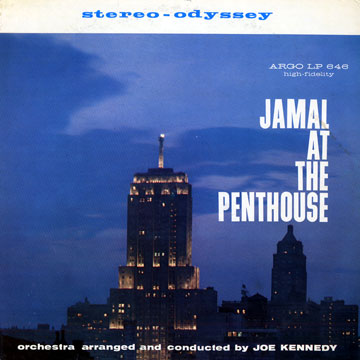 Ahmad Jamal (piano)
"Jamal at the Penthouse"
Argo 1959 (réf. LPS- 646)
Avec la participation de :
Ahmad Jamal (piano), Israel Crosby (bass), Vernell Fournier (drums), George Brown (drums), Alexander Cores (violin), Bernard Eichenbach (violin), Bertrand Hirsch (violin), Harry Katzman (violin), Joe Kennedy (violin), Leo Kruczek (violin), Harry Lookofsky (violin), Seymour Miroff (violin), Felix Orlewitz (violin), Gene Orloff (violin), Alvin Rudnitsky (violin), Lucien Schmit (cello), David Soyer (violin), Isadore Zir (violin)
33rpm, stereo, occasion, 28.00 €
[32.48 US$, 3,441.20 ¥]

Original US pressing- deep groove
État du disque : VG-
État de la pochette : VG+
Cracklings.
The corners and the cover's edges are slightly used.
A short opening on teh edge.