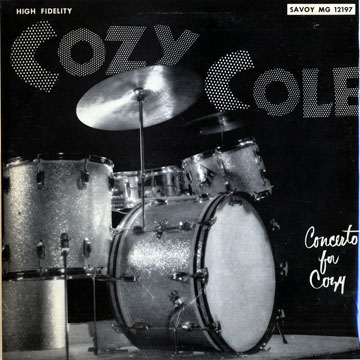 Cozy Cole (drums)
"Concerto for Cozy"
Savoy 1944 (réf. MG12197)
Avec la participation de :
Cozy Cole (drums), Emmett Berry (trumpet), Coleman Hawkins (saxophone), Billy Taylor (piano), Teddy Walters (guitar), Ben Webster (saxophone), Eddie Barefield (saxophone), Ray Conniff (trombon), Johnny Guarnieri (piano), Budd Johnson (saxophone), Walter 'foots' Thomas, Sid Weiss (bass)
33rpm, mono, occasion, 25.00 €
[28.75 US$, 3,102.50 ¥]

1960/70 US pressing (brown label)
État du disque : VG+
État de la pochette : VG+
The record is VG+/VG-, some slight cracklings.
The cover is VG+/VG-, she is a bit old.
One edge is slightly used.