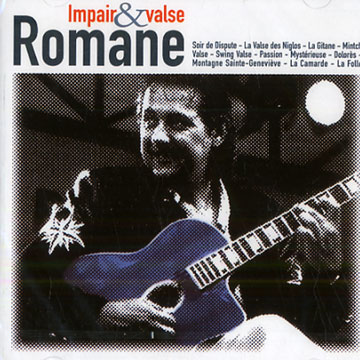 Romane (guitar)
"Impair & Valse"
Frémeaux & Associés 1999 (réf. FA 536)
Avec la participation de :
Romane (guitar), Alice Bassié (bass),
CD, stereo, occasion, 12.00 €
[13.44 US$, 1,443.60 ¥]

État du disque : S
État de la pochette : S
> vendu
Finally a full disc devoted to gypsy waltzes Directory! Bravura, fi Nesse, balance, pure product of the tradition of musette Paris before the war and dances, waltzes these are an important milestone in the formation of 'school gypsy jazz'. Number of guitarists, beginning with Django Reinhardt, have honed their skills, banjo and guitar. Romance, offering the quintessential gypsy waltzes on this CD-1999 baseline, suggests some of the finest fl Eurone this story with six strings. (Benjamin & Patrick Goldenstein FREMEAUX) Animated pedagogical concern that he has trained hundreds of musicians, Romane has integrated its disk partitions waltzes (played on computer with a CD-ROM) and offers instrumental versions rhythms that only guitarists can practice and perpetuate this directory.