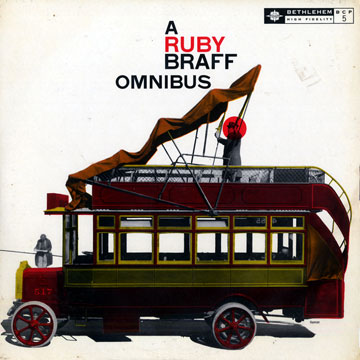 Ruby Braff (trumpet)
"A Ruby Braff omnibus"
Bethlehem records 1954 (réf. BCP-5)
Avec la participation de :
Ruby Braff (trumpet), Johnny Guarnieri (piano), Ellis Larkins (piano), Mundell Lowe (guitar), Bob Wilber (saxophone), Bobby Donaldson (drums), Al Klink (saxophone), Walter Page (bass), Hymie Schertzer (saxophone)
33rpm, mono, occasion, 40.00 €
[47.20 US$, 5,188.00 ¥]

Original US pressing
État du disque : VG+
État de la pochette : VG
Slight cracklings.
Opening on the upper edge.
Slight stains on the back.