shops
5 rue de navarre
75005 Paris
T: (+33) 1 43 36 78 92 contact@parisjazzcorner.com
Agency open from
tuesdays to saturday
from 12.00 AM to 8.00 PM
27 place de la libération
30250 Sommières
T : (+33) 4 66 35 42 83
contact@parisjazzcorner.com
Agency open on:
Friday (15h-19h)
and Saturday (11h-19h)
or by appointment
Focus
ALL SENDINGS ARE DISTURBED BY THE COVID_19. THANKS FOR WAITING BECAUSE WE TRY TO SEND YOUR PARCELS REGULARY WHEN WE RECEIVE ENOUGH ORDER FOR MOVING TO THE POST STATION. BEST REGARDS
À la une

Dano Haider& Anne Lauron& Natacha Santos& Verioca
"Vento De Jeri"
01- Agoniza mas nao morre
02- Vento de Jeri
03- Assim eu vou ficar
04- Rumos da vida
05- Rio amazonas
06- Folhas secas
Les photos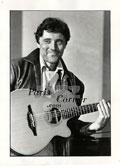 "Sasha Distel 1986"
Sasha Distel with his charming eyes
Real print from original negative of Sasha Distel from 1986, black and white 18 x 24 cm (7.20 x 9.60''). All the high quality photos of this exceptional collection are issued from a french photograph agency and all photographed in France excepted when noticed.
All are stamped on back by the agency.
Publication is subject of reproduction rights.

BEWARE! We announce you the photos print sold on line are only available in one copy, barely not available in two copies.
Once sold, we absolutely can't provide you with another copy.

27 place de la libération - 30250 Sommières - T : (+33) 4 66 35 42 83 -
contact@parisjazzcorner.com
Agency open on: Friday (15h-19h) and Saturday (11h-19h) or by appointment
©parisjazzcorner.com 2015 |
legals mentions
|
to contact us
|
top