shops
5 rue de navarre
75005 Paris
T: (+33) 1 43 36 78 92 contact@parisjazzcorner.com
Agency open from
tuesdays to saturday
from 12.00 AM to 8.00 PM
27 place de la libération
30250 Sommières
T : (+33) 4 66 35 42 83
contact@parisjazzcorner.com
Agency open on:
Tuesdays and Wednesday
from 15.00 PM to 20.00 PM
Focus
NEXT SENDINGS: 23rd of March
À la une

Miles Davis
"Ascenseur pour l'echafaud"
One of our favorite-ever Miles Davis albums (Elevator To The Gallows).
Miles recorded this material during late-night post-gig sessions with a great group that includes French players Barney Wilen, Rene Urtreger, and Pierre Michelot, plus American ex-patriot Kenny Clarke.
Wilen's playing is fantastic, and it's great to hear him and Miles together on the score's spooky meandering passages.
Great stuff, and one of the best jazz soundtracks ever.
Les photos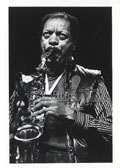 "Ornette Coleman 1984"
Real print from original negative of Ornette Coleman from 1984, black and white 18 x 24 cm (7.20 x 9.60''). All the high quality photos of this exceptional collection are issued from a french photograph agency and all photographed in France excepted when noticed.
All are stamped on back by the agency.
Publication is subject of reproduction rights.
27 place de la libération - 30250 Sommières - T : (+33) 4 66 35 42 83 -
contact@parisjazzcorner.com
Agency open on: Tuesdays and Wednesday from 15.00PM to 20.00PM
©parisjazzcorner.com 2015 |
legals mentions
|
to contact us
|
top